Full Load Shipping Services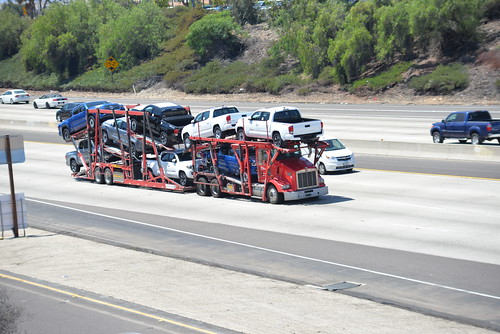 At Chicago Car Transport we offer reliable, affordable, and efficient full load shipping services. With a highly-skilled team of drivers and a top-notch customer service team, we've become the popular choice for folks in need of expert car shipping since 2006. Undoubtedly, it is our mission to be efficient, customer-friendly, and always improving.
Full load vehicle shipping is an important job that can't be trusted to just any company you find on the internet. With this service, carriers are reserved for one shipment only. This option is especially great for vehicle loads that fill an entire shipping container. Not only will the vehicle reach its destination sooner, as there are no additional pickups or drop-offs to make, but full load shipping is also less expensive than other transport services.
Typically, full load inquiries come from used car dealers and auctions that need to transport driveable, but non-salvageable vehicles. Keep in mind that dealerships make the majority of their profit by selling used cars. Therefore, this is a good option for car dealers to transport used and like new cars.
Not to mention, it is also a great choice for anyone who does business with dismantling, selling, and purchasing vehicle parts from salvage auctions and IAA (Insurance Auto Auction).
With Full Load shipping, the job is easier on the carrier and the shipper. For the carrier, there is one pick up and one drop off location. For the shipper, it's faster and much more cost-effective. In fact, it is approximately 32-35% cheaper than transporting a single car.
Before choosing a transport company, you want to make a point to ensure they are held in high regard within the industry. After that, you want to verify that they can handle the specific kind of commercial shipping you require. It's not good if you find a company with an excellent reputation who doesn't handle, for example, trucks or buses. In short, make sure you team up with a company that's reputable and knows how to work with your type of vehicles.
Full Load Shipping Services with Chicago Car Transport
Chicago Car Transport handles full load auto shipping jobs every single day. In fact, this kind of transport represents the bulk of our business. We are experienced, well-trained, and work as a unified team between all components of our operation including the drive-team, the dispatchers, and customer service.
At Chicago Car Transport our standard method of transport is door-to-door. This service is as convenient as it sounds and eliminates the need for hassle-filled pick-up locations. We'll come to you, no matter how remote your location, and pick-up your vehicles. Then we'll drop them off anywhere in the country. This includes Hawaii or Alaska.
Also, we allow you to choose either open or enclosed car shipping depending on which service suits your needs. Open is the cheapest form of commercial transport but is still highly secure. Enclosed auto shipping is slightly more expensive but guarantees your cars won't be exposed to the elements or road debris.
Contact Chicago Car Transport today to get your questions answered!