Joliet Auto Transport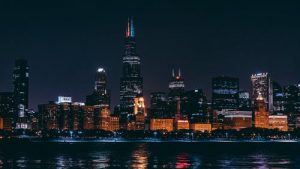 Joliet is the third-largest city in Illinois and a major part of the southwest Chicago metropolitan area. It is also the county seat of Will County. The city was first named "Juliet" after the daughter of Charles Reed, who is regarded as the first permanent settler in the original town back in 1833. However, it was renamed "Joliet" in 1845 and reincorporated as a city in 1852. While the spirit is centered around the Des Plaines River, the historic Illinois and Michigan Canal runs through the city limits as well.
Moreover, summers in Joliet are hot and wet, while the cold winters bring upon moderate to heavy snowfall.
In addition, the city is home to several infamous landmarks, including the Joliet Prison, located near the downtown district. The prison was featured in the television show Prison Break. It was also featured in the 1980 movie, The Blues Brothers, starring John Belushi as "Joliet" Jake Blues. The Rialto Square Theatre can also be seen in the Kevin Bacon film, Stir of Echoes. For historians, the Area Historical Museum is located near the theatre as well. Also, it is the only city in Illinois to have two casinos, the Hollywood Casino and a Harrah's. Additionally, racecars fans can delight in the several raceways the city boasts, including the Chicagoland Speedway, which hosts annual NASCAR events, the Route 66 Raceway, and the Autobahn Country Club. For nature lovers, there are numerous parks, golf courses, and trails for the whole family to enjoy. Not to mention, Joliet is also home to the very first Dairy Queen.
Essentially, there is a lot to do, learn, and see throughout the Joliet area! If you are relocating there, let Chicago Car Transport help you feel more at home by delivering all your vehicles for you.
Joliet Chicago Car Transport
So, you have a vehicle you need to be shipped to Joliet? Don't worry, because you have come to the right place with Chicago Car Transport. As one of the leaders in the car shipping industry, with a range of services available, we are the best auto transport company for the job. Not all shipping companies can provide the exact service that you need, but we can! We have all the necessary licenses and equipment to ship almost any vehicle you can think of. We can ship your car anywhere in the US!
Need your golf cart, AV, military vehicle, or commercial van shipped to or from Joliet? Let us take care of it for you! Regardless of what vehicles you need to be shipped to or from the Joliet area, Chicago Car Transport can take care of it. We offer our convenient Door-to-Door shipping services nationwide, making the process simple and stress-free. And, we can also provide Expedited Shipping if you need your vehicle picked up ASAP.
Contact us today for more info about our Joliet Chicago Auto Transport services or to start your shipping process.