Evanston Auto Transport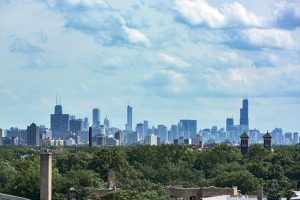 Just north of downtown Chicago, Evanston is a diverse city with lots of flare. It is in Cook County, Illinois, and as of 2010, the population reached 74,486. Due to its strong Methodist influence, Evanston was once called "Heavenston," and then at another point, "The City of Churches." The city is one of the wealthy towns in the North Shore community.
Regarded as one of the best places to live in Illinois, Evanston offers residents an urban feel with a variety of different neighborhoods throughout the city. Many young professionals flock to the city for several reasons. Generally, the summers in Evanston are warm, humid, and wet; while the winters tend to be on the freezing and windy side. It is also partly cloudy year-round.
Education is key in the affluent city. The public schools are among the best in the state. It is also home to the prestigious Northwestern University. A fun history fact about Evanston is that in 1939, the city hosted the first NCAA basketball championship final at Northwestern University's Patten Gymnasium.
Aside from the countless restaurants, coffee shops, and nightspots, Evanston has several parks, trails and open spaces as well, including the beautiful Shakespeare Garden.
Some of the more popular attractions in Evanston include the Block Museum of Art, which is an art museum free to the public located on the campus of Northwestern University. Another favorite is the historic Grosse Point Lighthouse. Tours of the lighthouse are held seasonally. And, if you want to dive a bit deeper into the history of Evanston, spend the day at the Evanston History Center or the Charles Gates Dawes House.
Not to mention, Evanston is pretty famous too. The city has become a popular movie production location providing the backdrop for films such as the John Hughes' 1984 Brat Pack classic, Sixteen Candles, Rookie of the Year, Cheaper by the Dozen, and Home Alone 2 & Home Alone 3, just to name a few.
There's so much to do and see in this bustling town, no wonder you're on your way.
Chicago Car Transport Evanston Auto Shipping
Moving to or from Evanston? Have you thought about how you are going to ship your vehicles? Let Chicago Car Transport do the work for you. We are the best choice when you need to move a vehicle to or from Evanston. Our auto shipping services are incomparable to none. We have the necessary tools and equipment to successfully transport your vehicle, ensuring safety along the way. Chicago Car Transport is here to help you!
We are one of the most dependable auto transport companies serving the nation — including Evanston. When you work with a reliable carrier like Chicago Car Transport, you can put your worries aside and take care of other aspects of your move, knowing your vehicle is in good hands.
We are always happy to assist our clients with all their car shipping requests. Our most common shipping method is open car transport. However, we also offer enclosed car shipping for maximum security. This way your vehicle is protected from the outside elements and road debris. And, if you need your vehicle shipped sooner, we offer expedited pick up as well. Not to mention, all of our services include door-to-door transport for your convenience.
Give us a call today. We are happy to help with your Evanston Auto Transport!